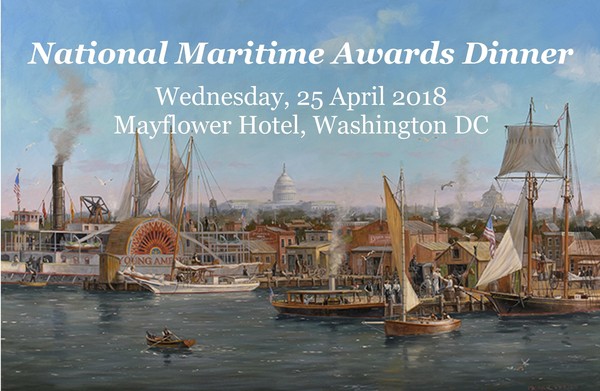 Reception at 6:00 PM; Dinner at 7:00 PM
Business/Cocktail Attire
Marine Art Exhibition          Silent Auction          Live Auction
The National Maritime Historical Society and the National Coast Guard Museum Association will honor three distinguished individuals at their National Maritime Awards Dinner on Wednesday, April 25, 2018, at the elegant and historic Mayflower Hotel in Washington, D.C.  This illustrious event brings together in one place those who love and serve the sea—leaders of the military sea services, maritime authors, artists, scientists, sea explorers, competitive yachtsmen, boat designers and builders, cruise operators, maritime educators, museums, philanthropists and government officials who have supported America's maritime heritage.
For information about sponsoring this event and advertising in the dinner journal, please see the Sponsorship and Journal Ad materials and contact Wendy Paggiotta at vicepresident@seahistory.org.  We gratefully acknowledge Fleet Sponsors J. W. Marriott Jr. and Donald T. "Boysie" Bollinger, and Underwriter Howard Slotnick for their generous support!
In addition to the annual Live and Silent Auctions offering an array of incredible collectibles, sails, resorts and more, this year's dinner will also feature the Washington Invitational Marine Art Exhibition.  Through the leadership of acclaimed artist Patrick O'Brien, a select group of contemporary masters from the American Society of Marine Artists will display their work.  This is an exhibition of mostly small paintings, offering guests a chance to meet the artists, see their paintings, and perhaps purchase a favorite to take home.  View this short video by Patrick O'Brien featuring his work On the Waterfront: Washington DC 1899, one of the paintings on display and for sale at the gala.
It is with great excitement that Dr. Timothy Runyan and Denise Krepp, co-chairs for the 2018 National Maritime Awards Dinner, announce this year's three extraordinary honorees:
J. W. Marriott Jr. will receive the NMHS Distinguished Service Award.   Mr. Marriott is Executive Chairman and  Chairman of the Board of Marriott International, Inc.  Mr. Marriott served as a supply officer aboard the US Navy aircraft carrier USS Randolph (CV-15) from 1954 to 1956, which he calls an important learning experience and one that greatly influenced his management style in the hospitality industry. Marriott International maintains a "Spirit to Serve" philosophy, fostered by J. W. Marriott, to provide extensive corporate support to America's returning veterans. Mr. Marriott places a great emphasis on people—his staff, communities, and guests. He served 40 years as the world-famous hotel chain's chief executive officer, before stepping down in March of 2012. His leadership spans more than 60 years building the global hospitality company to what it is today, with 6,500 properties across 30 brands in 127 countries and territories, with approximately 675,000 people worldwide who wear the Marriott badge.  Admiral Jonathan W. Greenert, USN (Ret.), former Chief of Naval Operations, will present the award.
William C. Baker will receive the NMHS Distinguished Service Award.  Mr. Baker is the president and CEO of the Chesapeake Bay Foundation, the largest nonprofit conservation organization dedicated solely to preserving and restoring the Chesapeake Bay. With over 200,000 members, the Chesapeake Bay Foundation is a fierce advocate working to protect and restore a national treasure and integral part of America's maritime heritage through advocacy, education, litigation and restoration. Mr. Baker is focused on one goal—"Saving the Bay," and achieving a clean, healthy and productive estuarine system that will be a model for water bodies worldwide. The director of many organizations, Mr. Baker holds honorary doctorates from several universities and is the recipient of the 1992 Presidential Medal for Environmental Excellence, the nation's highest environmental honor.  Senator Benjamin L. Cardin of Maryland will present the award.
Donald T. "Boysie" Bollinger will receive the National Coast Guard Museum Association's Alexander Hamilton Award. After a lifetime of providing quality construction of vessels for both military and civilian use, Mr. Bollinger has continued to be recognized for his generosity and philanthropic giving. His influence and dedication have benefited many organizations, most especially the United States Coast Guard Foundation and National World War II Museum. For his unwavering support, the National Coast Guard Museum Association is honored to recognize this icon within the maritime industry. Former United States Secretary of Homeland Security and Governor of Pennsylvania Thomas J. Ridge will present the award.
Gary Jobson, America's Cup winner and America's "Ambassador of Sailing," will be the Master of Ceremonies. Video introductions of the recipients will be produced by Rick Lopes and XXL Media.  Entertainment will be provided by The Kings Point Glee Club of the United States Merchant Marine Academy directed by Midshipman Shaun Meehan, Glee Club President.
Founding dinner chairman Philip Webster recommends that guests make their reservations soon by emailing nmhs@seahistory.org or by calling 914 737-7878, ext. 0, since he predicts this dinner will sell out especially early.  Tickets are priced from $275.  ($150 of each ticket is the tax deductible portion.)  The National Maritime Historical Society and the National Coast Guard Museum Association are also seeking sponsorship support at varying levels from corporations, associations, foundations and individuals that wish to support the work of the United States maritime community at the National Maritime Awards Dinner and to honor the 2018 award recipients while contributing to the educational programming of both organizations.  Sponsorship opportunities from $600 to $50,000 are available.  For  information on sponsorship and advertising in the dinner journal, please see the Sponsorship and Journal Ad packets, and contact Vice President Wendy Paggiotta at vicepresident@seahistory.org.
The Mayflower Hotel has reserved a block of rooms for the nights of April 24 and April 25 at the special rate of $359 per night (plus tax).  Rooms will be available until 5 pm on 3 April or when the block is full.   To reserve a room, use this passkey link or call the reservations number 877-212-5752 and give the group name National Maritime Awards Dinner.