NMHS celebrated it's 50th Anniversary in a big way by revisiting our roots in the historic maritime sites of New York City.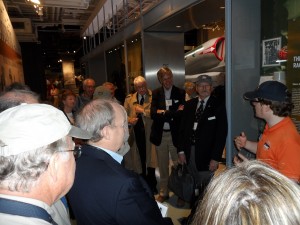 Members toured the Intrepid Sea, Air & Space Museum at Pier 86 on the Hudson River, enjoyed lunch on the barge at Pier 66 Maritime bar and grill (a.k.a. Krevey's), paid a visit to the fireboat John J. Harvey with a personal tour by owner Huntley Gill, followed by a tour of the Frying Pan lightship. Back on board the ferry, we traveled to Pier 25 to visit with tugboat captain and owner Pam Hepburn aboard the 1907 tug Pegasus, which was active in both world wars and represents the tugs that went from steam to diesel propulsion and from riveted to welded construction. America's only steam-powered lighthouse tender, the 1933 USCGC Lilac, was open for NMHS members to get a first-hand look at deck and below, guided by Gerry Weinstein, museum founder, and Mary Habstritt, museum director and president. Next, members were taken past North Cove Marina, where we viewed the sailing yacht Ventura and schooner Shearwater, then it was around to Brooklyn, to view the Lehigh Valley Railroad Barge No. 79 with commentary by David Sharps and the tanker Mary A. Whalen with commentary by Carolina Salguero. And that was just day one!
Saturday began with Continental breakfast and the NMHS Annual Meeting at historic India House. Sea History Press announced its soon to be released publication, A Dream of Tall Ships, about the founding of South Street Seaport, by Peter and Norma Stanford. NMHS was honored to present Norma Stanford with a special 50th Anniversary  Award for her many years of service and dedication to the Society.
New York State Historian Emeritus Dr. Joseph F. Meany, Jr. gave a presentation discussing the port of New York during World War II. A private tour of the Peking and Ambrose lighship was given by South Street Seaport Waterfront Commissioner, Jonathan Boulware.  Members were able to tour  the Custom House, now the National Museum of the American Indian; and Federal Hall.  Later that evening, NMHS members toured the Maritime Industry Museum at SUNY Maritime College and enjoyed a reception and buffet dinner at Fort Schuyler. The private use of the New York Waterways ferryboat was donated by Mr. Arthur Imperatore, Sr., for our celebration. We are most thankful for his generosity.
On our last day in NYC, members were treated to a rainy tour of Go
vernor's Island and the Brooklyn Navy Yard Museum, where Daniella Romano, Brooklyn Navy Yard Development Corporation's vice president for BLDG 92 Exhibits and Programs, gave an informative tour.
To see more images from these exclusive events, please visit our Photo Gallery.